Proportionate ID (Prop-ID) Website
During the 2010-2011 academic year, I helped build and maintain the website for the Prop-ID research project, funded by the OPC, along with fellow U of T master's student Jennette Weber. I contributed to developing the site's information architecture and design.
I conducted ethnographic user research using ID card overlays to gauge organizations' reactions to the concept of proportionate ID sharing via a mobile app. I wrote most of the blog entries, documenting the research project as it progressed. I also implemented a social media strategy for the project by disseminating blog entries and videos across Twitter, Facebook and YouTube.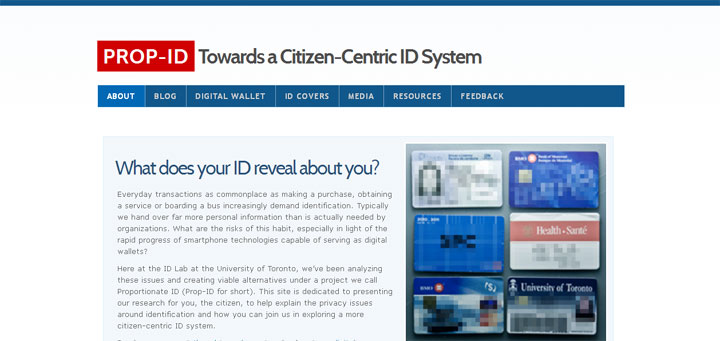 I researched and wrote the content for the Global Overview of Digital Wallet Technologies page, also designed by Jennette Weber. This page received coverage in a Global News article in April, 2012: "Should Canadians embrace the digital wallet in a future without cash?"
I was also responsible for creating the project's annotated bibliography.
See the videos that I created for this research project here.